Bathroom pods: CUBE
We only use high quality materials for our products. They are resistant to humidity and intensive use, so that they can be used in events in which any number of guests will attend.
Cube prefab mobile bathrooms are all equipped water drains by Geberit.
Industry leader that allows us to have the best water saving and technical efficiency functions available at the time being.
For taps and drains, for reasons hygiene, environmental respect and inclusiveness, electronic no touch system operation is a must.
Cubes are full option mobile bathrooms, distributed in two lines with different depths: Cube Comfort and Cube Slim.
Monoblocks are built in structures of two basic colors, black and white. To which perimeter panels are applied finished with an exclusive coating alloy.
This alloy, in addition to giving the distinguishable luxury look & feel of our portable toilets, ensures a particularly high resistance to corrosion, optimal in outdoor use.
Totally customizable during the set-up phase, we offer as basic colors: glossy black, white, mirror.
Named respectively, Black Mirror, White Mirror and Silver Mirror.
Black Mirror is the glossy black livery that has imposed us on the luxury events market as a "Must Have"
Black Mirror and Silver Mirror interior finish:
Rectified porcelain stoneware flooring, a type of material inspired by the elegance of marble, classic marble vein effects are in fact reproduced and revisited to create sophisticated environments.
Modern and elegant environment with accessories in polished chrome and brushed aluminum finishes, sanitary ceramics and designer accessories that are comfortable to use.
White Mirror and Special Edition interior finish:
Flooring in resistant and hygienic material, essential environment with accessories in satin plastic and minimalist finishes, sanitary ceramics and accessories that are pleasant and comfortable to use.
Cube Comfort
Cube Comfort or "CC" is available in several ever-expanding models. This is the first product line that has been designed and produced in our artisan laboratory.
It stands out for its generous spaces, having a depth that varies from 230 cm to 240 cm.
Available in the colors Black Mirror (mirroring gloss black) and White Mirror (white structure with mirrors).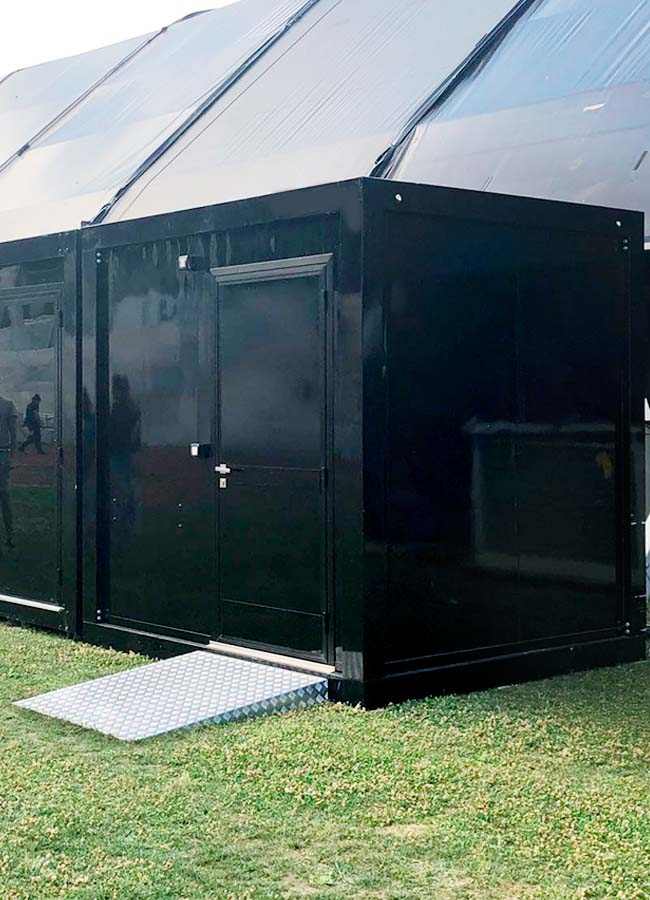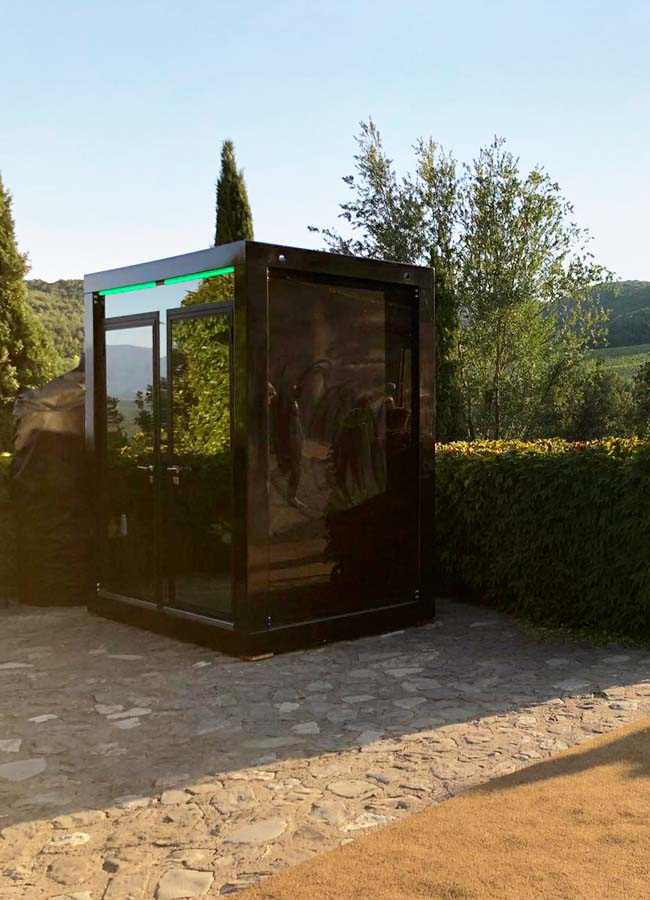 Cube Slim or "CS" borns in 2018 following a customized project requested by a renowned fashion brand: to produce our luxury mobile bathrooms in smaller dimensions.
We have thus come to reformulate internal and external aesthetic concept of our Cubes, developing a product with a depth varying from 150 cm to 200 cm.
Special edition: "B.A.T.H."
We wanted to implement our mobile facilities, after Expo-sanità experience with a special edition.
A double bathroom pod that would allow our customers to offer a bathroom to users with visual, mobile, hearing impairments or other impediments for a dignified and safe use of the toilets.
CC-BM-X2-W: Twin bathrooms complete with toilet and sink created for the most complete inclusion.
BATH prefab monobloc is the first fully accessible luxury bathroom prototype ever made for temporary set-up sector.